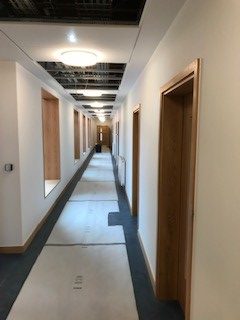 Newnham College Cambridge
Asp Carpentry were contracted on a labour only basis to install oak door sets, oak architraves and oak skirtings, other parts of the 2nd fix included making wardrobes for the student apartments in the Fawcett area on 3 floors. Asp also had a variety of small projects in the refurbishment area this varied, repairing windows, hand cutting a small roof, removing existing floors and repairing them. As the project progressed Asp doubled its package and were on site for 10 months, the completion of work came after the fitting of roof decking on adjustable cradles, this followed by making a frame work over the air con chillers and cladding in hardwood to make a seating area and planter.
While working on the main site Asp were also contracted to hand cut a roof on an extension the on site joiners shop.